Farmers Day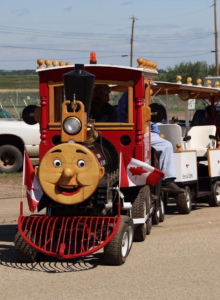 Farmers Day is an annual event in Holden, held on the second Saturday of June.
It's a great time to meet people, enjoy a fun day of community connection, and welcome the summer season.
Events in the celebration typically include:
Pancake Breakfast
Parade
Farmers Day Market
Museum and Art Gallery Displays
Beer Gardens
Children's Games & Activities
Community Supper
Entertainment
Free Hot Dogs & Pop
Fireworks
All the action takes place on and around Main Street: at the Holden Complex (arena), the Legion, the Museum, United Church, Fire Hall, and The Gallery.
Contact the Village Office for further information about joining in the parade or to book your space at the Farmers Day Market - 780-688-3928.