COMMUNITY HALL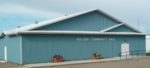 Business Name:
LOCATION:
4919 – 49 Avenue, Holden, AB
CONTACT INFORMATION:
Phone: 780-688-3928 (Village Office) for Hall rental rates and inquiries
Fax: 780-688-2091
Email: vholden@telusplanet.net (link sends e-mail)
Mailing Address: Box 357, Holden, AB T0B 2C0
MANAGED BY:
Holden Administration
DESCRIPTION:
The Holden Community Hall has 7,400 total square feet of space (688 sq. m.), which includes:
Full Commercial Kitchen
Enclosed Bar
Washrooms and Coat Rooms
Low-profile Stage
Dance Floor
The open area has space for 300 people at a sit-down meal.
The Hall has a bright, fresh appearance and is well-maintained.
The Holden Community Hall Association helps raise funds for Hall improvements by catering suppers and selling the popular Community Calendar.