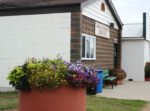 Business Name
LOCATION:
4912 – 50 Street
HOURS OF OPERATION:
Regular hours
Tuesday 10 am - 6 pm
Thursday 4 pm – 8 pm
Saturday 9 am - 12 pm
Check out "NEWS" for any special Holiday Hours, programs, or events.
Summer reading program July - August
CONTACT INFORMATION:
Annette Hrabec, Librarian
Phone: 780-688-3838
Email: librarian@holdenlibrary.ab.ca (link sends e-mail)
Website: https://www.holdenlibrary.ab.ca (link is external)
Mailing Address: Box 26, Holden AB T0B 2C0
MANAGED BY:
Holden Municipal Library Board
DESCRIPTION:
With a library card, you can access the Northern Lights databases, which have a wealth of information not otherwise available on the web. Resources include:
Business Resources
Do-It-Yourself Instruction
Newspaper, Magazine, & Journal Articles
Encyclopedias & Reference Materials
Genealogy
Health & Wellness
Literature, Fiction, Poetry, Film & the Arts
Science And Tell Me More (Languages)
Donations: Patrons & friends are encouraged to remember the Holden Library when making memorial donations.
All Library donations receive a tax-deductible receipt, if made payable to "Village of Holden" (include a note of designation for Holden Library). The Village will issue the tax receipt & forward the funds to the Library Board. Thank you for your support