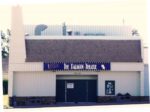 Business Name

LOCATION:
5019 – 50 Street
HOURS OF OPERATION:
NOW Showing Movies! On the BIG Screen (new and impressive). Usually, one or more times per month take your pick of matinee (geared to families/children) or an evening show.
Admission is $7 adult / $3 for children (under 12 years). Concession (yes, with Popcorn!) is available.
Movies are also presented on other occasions, so check out the website often for current shows: www.beaverhillplayers.com (link is external)
CONTACT INFORMATION:
A variety of performances are enjoyed each year in this restored movie theatre, formerly known as 'Beaver Regional Arts Centre'.
The venue is a perfect location to showcase talent, host your own event, hold a workshop or relax and enjoy live entertainment.
Both Beaver County and the Village of Holden are proud of this facility and the volunteers who make it all happen.
There are 3 local groups that mainly host the entertainment and activities:
1. Beaver Regional Arts Society: for shows & information, phone:
·  Christine Mackay 780-688-3812 or
·  Susan Tymchak 780-688-2126
2. Beaverhill Players: for shows & information,
· phone: 780-720-5839
3. Big Picture Theater: (Junior Players) for shows & information,
· phone: 780-240-6440
The Theatre is managed by: Beaverhill Players Society
Descriptions: 
Beaver Regional Arts Society hosts an annual 'Season Series' with a variety of shows from November to March, including the popular Christmas Show. These performances are enjoyed by patrons from across the region and groups who bus here from Edmonton, Camrose, and other parts of central Alberta.
Beaver Arts Season Series Tickets for 4 Shows
· $70.00 – ADULTS / $20.00 – for CHILDREN 12 & UNDER.
Individual Tickets
·  $27.00 FOR ADULTS  /$8.00 FOR 12 & UNDER.
They also have flex tickets for sale at the same price as season series and you get 4 tickets that you can use for any of their shows, either singly or in any combination.
Season Series tickets and Flex tickets will only be sold until December 31. After that individual ticket prices will be in effect.
Supper is available at the Community Hall after each show at a cost of $16.00
The Society would like to THANK the following for its continued success:
· SEASON TICKET HOLDERS!
· Alberta Foundation for the Arts
· Beaver County
· Village of Holden
· The many individuals who encourage and support this endeavour
Thank you for another great year!!
Watch the website 'News' and the 'Events Calendar' for details of the Beaver Arts Season.
Beaverhill Players present live theatre at this venue, a variety of concerts, as well as movies. Upcoming performancs and movie details are available on the 'News' page, on the 'Events Calendar', or at the Beaverhill Players website www.beaverhillplayers.com
Call at 780-720-5839 for more information on shows or tickets.
Big Picture Theatre Foundation hosts the "Junior Players Theatre School" for students in grades 6 to 12 and produces an annual Showcase in April every year at the Paragon Theatre.  For more information visit the Big Picture Theatre website www.bigpicturetheatre.ca or email info@bigpicturetheatre.ca.
---