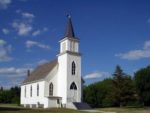 Business Name
LOCATION:
4916-49 Avenue (the former Holden Lutheran Church)
HOURS OF OPERATION:
Friday
Saturday, & Sunday from 12:00 noon to 4:00 pm
Or phone for an appointment
Basement Space is available for rent as a meeting or activity venue. Includes kitchenette, tables & chairs.
CONTACT INFORMATION:
Phone: Michele 780-983-5700 or Julianne 780-490-9190
Email: thegalleryholden@gmail.com
Mailing Address: Box 462, Holden, Alberta T0B 2C0
MANAGED BY:
Studio 14 Art Association
DESCRIPTION:
The Gallery is dedicated to education, support, and promotion of all forms of the Art & Artisams.
Located in a local historic building, the former Lutheran church.
New arts and artisans are always welcome.