VILLAGE OF HOLDEN HERITAGE PROGRAM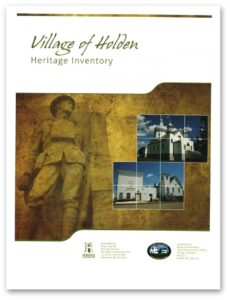 The 'Charm of Country Living' is easily found in the visible remains of pioneer life, built on the streets of Holden.
To preserve historic places, Holden began a heritage program in 2010.
To date the program has completed:
Heritage Survey - 60 buildings
Heritage Inventory - further documentation on 24 sites from the Survey
Heritage Management Plan (HMP) - the steps to designation (a PDF copy of this plan is attached in 2 sections below: 'body' & 'appendices')
DESIGNATION AS A MUNICIPAL HISTORIC RESOURCE
is an official, legal process confirming the reasons that a site should be preserved;
protects only the most significant features of a building or structure so that it may continue telling its unique story about our history;
encourages upgrading and adaptation of buildings for modern use; and
does not mean that buildings are "frozen in time" but brings them into the present day with their heritage value intact.
DO YOU, OR YOUR ORGANIZATION, OWN A BUILDING THAT COULD QUALIFY FOR HISTORIC DESIGNATION?
Check out the PDF Application Form below. That's the first step... and the Heritage Committee will help you with the process, once the application is approved.
The Municipal Register of Historic Resources lists all sites in Holden that are currently designated.
The Alberta Register of Historic Resources  lists all designated sites in the province, whether designated at the municipal, provincial, or federal level.
The Holden Heritage Resources Committee leads this program with assistance from the Province of Alberta, Tourism and Culture (link is external). The committee meets monthly and welcomes inquiries about historic designation through the Village office.
PDF icon HMP-FINAL-Body.pdf
PDF icon HMP-FINAL-All Appendices.pdf
PDF icon Inventory-Final May 19 2011-buildings only.pdf
PDF icon HMP-App D_iv-Form-Application for Designation.pdf