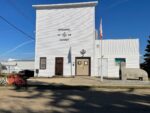 Business Name
LOCATION:
4928 - 50 Ave (east of Main Street Cenotaph)
HOURS OF OPERATION:
The Museum is open from Mid-May to Early Septemeber.
Normal summer hours are Friday, Saturday, and Sunday from 12:00 noon to 4:00 pm.
Extra hours may be added for special local events, such as Farmer's Day.
Open by appointment anytime, including off-season.
CONTACT INFORMATION:
Dave Maruszeczka, President
Phone: (780) 688-3593 or 780-720-5839
Email: holdenmuseum@gmail.com (link sends e-mail)
Mailing Address: Box 32, Holden AB T0B 2C0
MANAGED BY:
Holden Historical Society
DESCRIPTION:
Holden Historical Society Museum welcomes visitors to share the community history of Holden and area. In 1991 the Holden Museum was established on the main floor of the current 1911 building. Visitors will experience a pioneer kitchen, an outdoor Piche oven, general store, church, schoolroom, barbershop, jail , Interactive Displays and a parlour full of beautiful handcrafted items.
Celebrate birthdays, family reunions, or bring visitors for a private visit at the Museum. To book a time, call 780-720-5839, or email holdenmuseum@gmail.com
No admission – your donations help to maintain and improve the Museum. Free wireless internet available.
ABOUT THE MUSEUM
 ENJOYMENT, ENRICHMENT, EDUCATION
The building itself has an interesting and varied past. It was built in 1911 and originally used as the town hall, the fire hall, and jail on the main floor. The old hand-operated fire hose cart is displayed on the Museum grounds.
The upper floor was used as an early community and dance hall and later as a place for silent movies. The building was given by the Village to the Masons in 1935 and the Masonic Lodge room upstairs is still used today. Tours of the Lodge, large outdoor artifacts, and workshop are available on request.
Children will enjoy some of the hands-on displays and having their photo taken in a real jail. Students and researchers are welcome to research information for projects.
SOMETHING SPECIAL
Visit the scaled HO miniature model of 1909 Holden Main Street, which depicts the community as it actually was in 1909 - 1911.
The miniature Village was built in 2009 to celebrate Holden's Centennial. Two dedicated volunteers brought this vision into reality. Initially, it took them well over 4,000 hours to build, with many more hours spent on additions such as a Grist Mill, Steam Engine complete with decals and fittings, and a Case Steam Tractor consisting of 100 parts.
Every building in the model is historically correct in detail, using the information found in photos, newspapers and other research. Enjoy a trip to the rail yards, passenger train station and elevator as they were in the 'olden days.
Visitors can look straight down Main Street and get a feeling of what early Holden was like. Imagine walking down the boardwalks, look into some of the business windows at merchandise, and see people going about their daily lives.
Don't miss this truly unique experience. A visit to the miniature village will enhance your appreciation and understanding of the artifacts displayed throughout the museum.
Link to Rural East Alberta Museums
Holden Museum holds Recognized Museum status and is a Member of
Alberta Museums Association and Central Rural East Alberta Museums network.



---